MicroEJ's highlights at CES 2018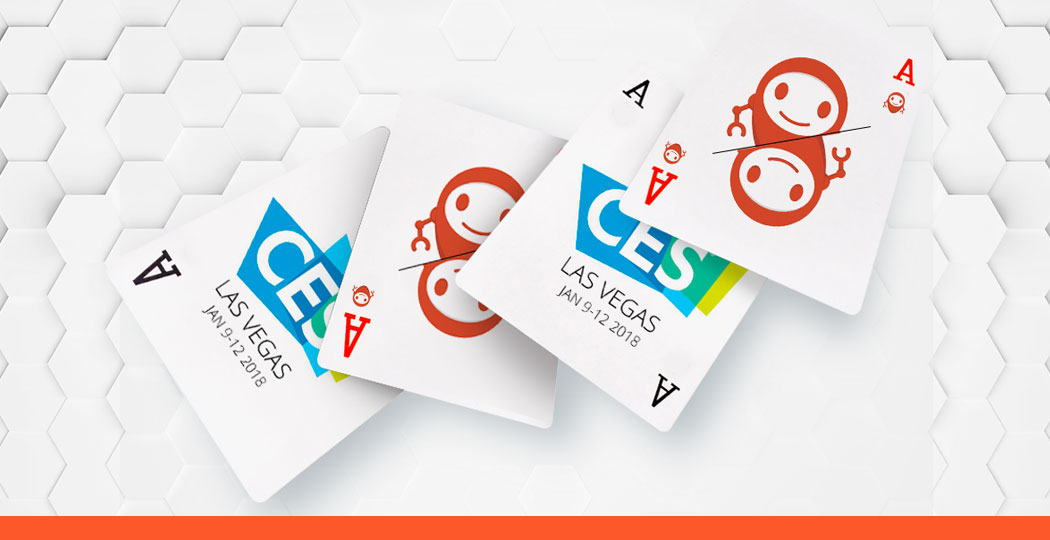 For the 3rd year in a row, MicroEJ exhibited at the biggest electronics and world innovation show: the Consumer Electronic Show (CES) in Las Vegas from January 9th to the 12th. Positioned at the heart of the Smarthome MarketPlace, MicroEJ had a 600sq. ft booth and demonstrated its embedded software platforms and new products across different industries.
Smarthome area
In the Smart Home area MicroEJ presented our new partnership with Otodo to bring the smarthome experience the next level. This hub has multi-protocol capabilities and easily connects and manages all electronic devices from home at once.  Two other devices were presented: a smart home display from Delta Dore to handle security, comfort, and energy and a battery powered alarm keyboard from the German Group Hager.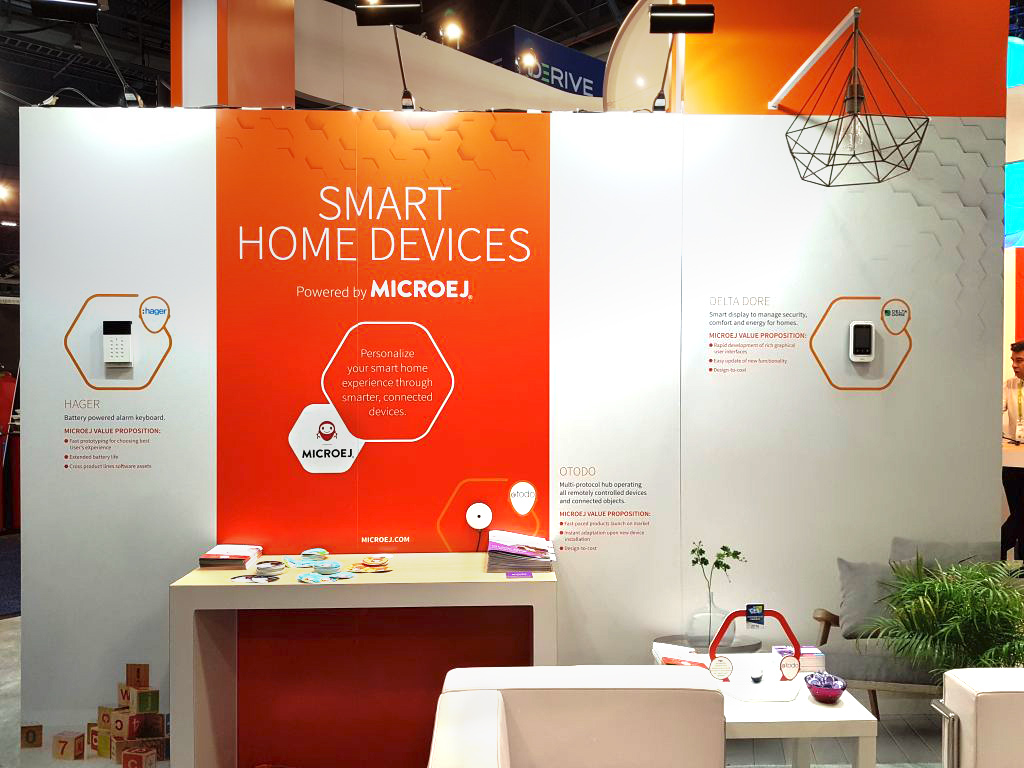 Smarthome area on booth
Healthcare zone
Our healthcare area leveraged current trends:
This zone was running leading-edge solutions including the LabPad from Avalun. This portable Point-of-Care innovative system enables self-blood testing with instant results. Eff'Innov displayed its smartwatch which retrieves users' vital parameters in real-time (pulse, temperature, oximetry). These products fit in perfectly with the self-care health trend of CES 2018.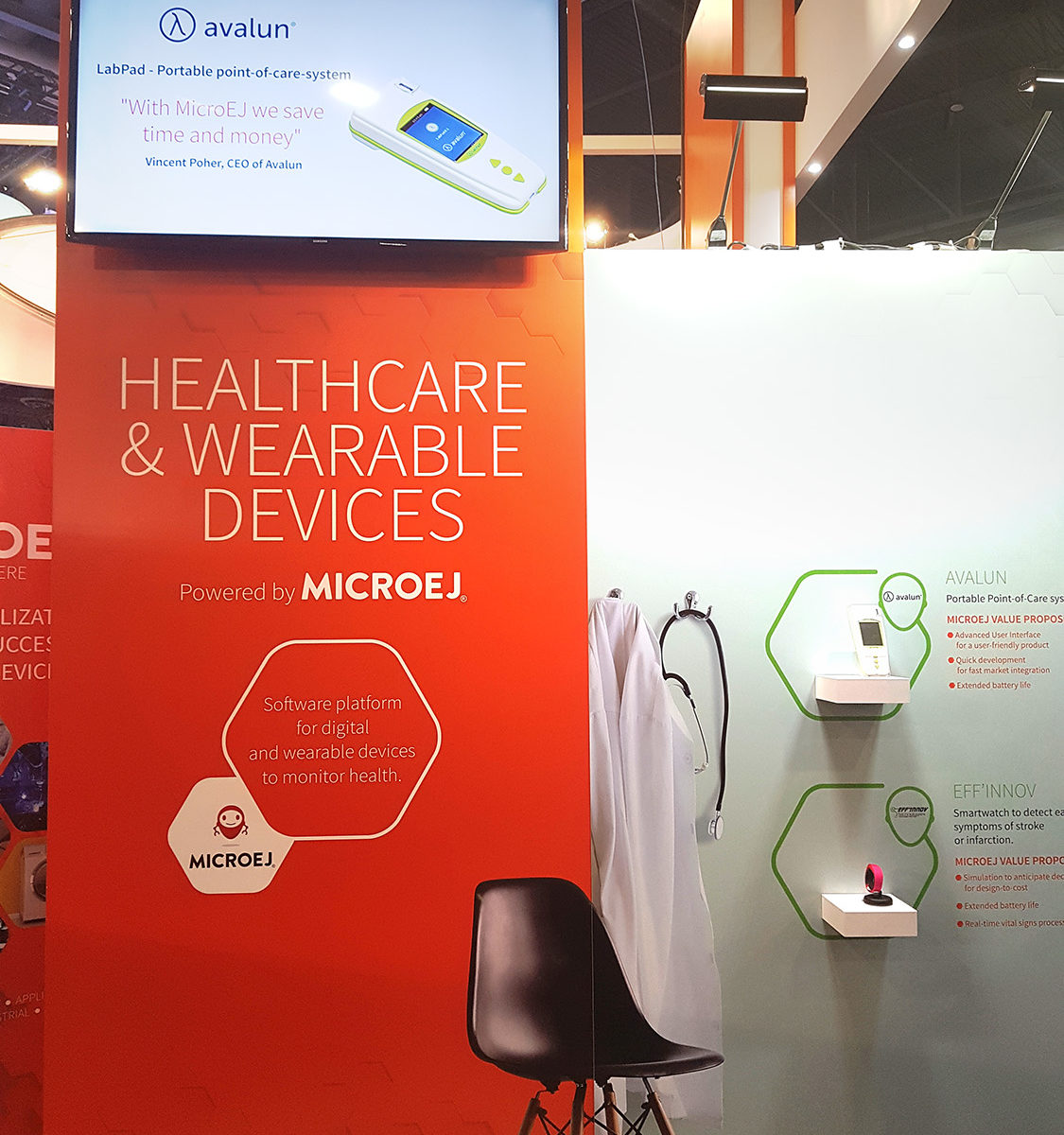 Smart Energy zone
In this part of the booth we highlighted 2 products from Atlantic: a connected towel heater powered by a high-quality sound player from Cabasse and the thermodynamic water heater on extracted air from Atlantic, a French company. Hydrelis, showed its design-to-cost WiFi connected water circuit breaker on our booth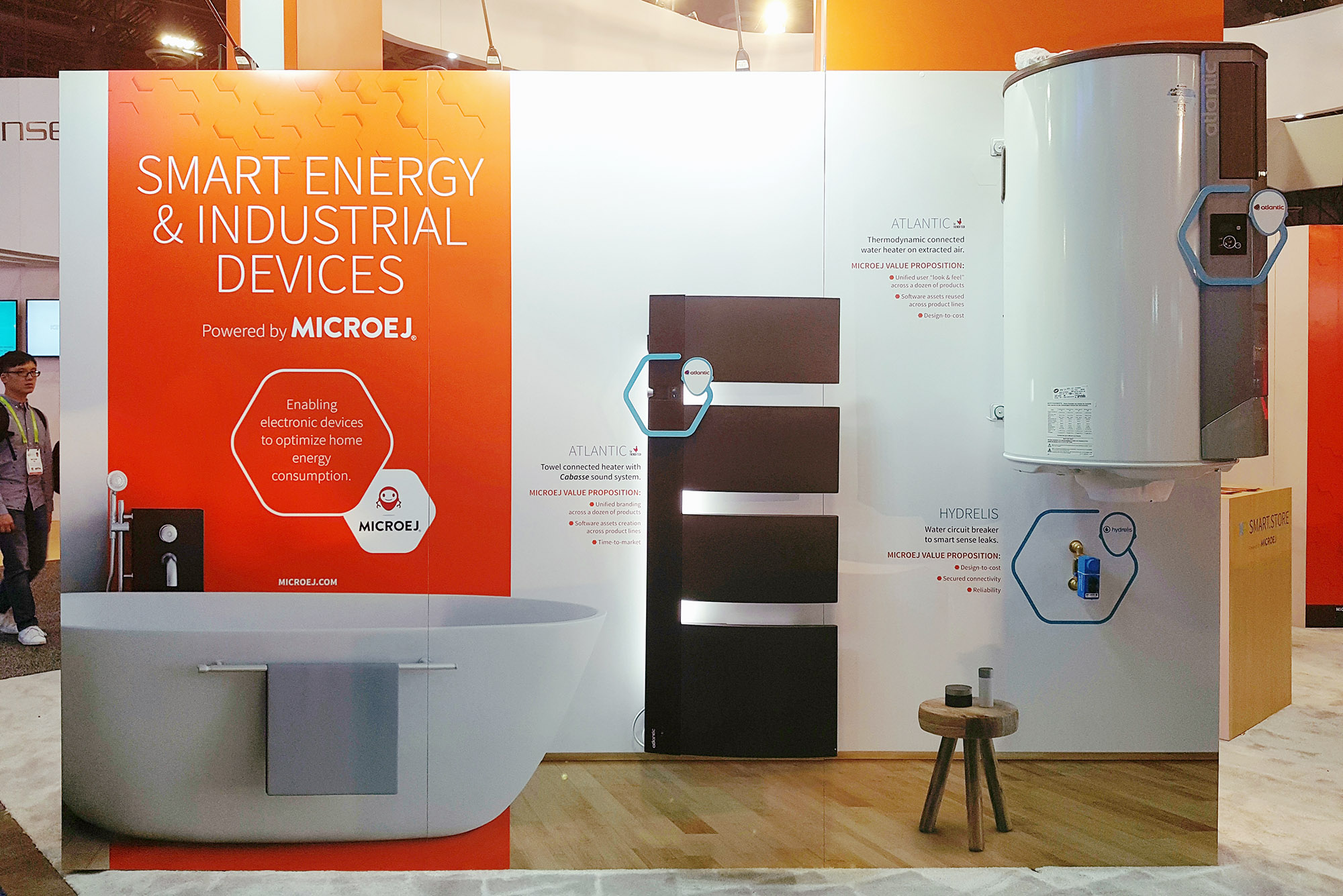 Landis+Gyr the #1 smart meter manufacturer demonstrated the benefits of MicroEJ through their next generation of smart-meters.
Cloud area
Xively cloud: A temperature sensor application was demonstrated and the data was directly published to the Xively cloud platform through a web interface.
Developers' area:
In this part of our booth, CES attendees found different demo scenarios on various electronic boards that were available for testing and included:
– NXP Aruba with Multi-sandboxed applications: Smart-home, Thermocloud
– NXP IMX6 and STM32F746- DISCO with Multi-sandboxed applications: TomTom, Smart-home, Thermocloud
And also:
– RZ StreamIt with nice GUI and temperatures setup applications
– RZ Peach with multi-applications and a LED demo
– NXP KL46 board with LED and low-end display
– Avnet visible things with GUI and temperature setup application connected to Xively Cloud
– Renesas DKS7G2 with the washing machine UI in multi-languages and multi themes
Store area:
The Smart.Store of NXP was exclusively presented at the center of the booth and the TomTom app for connected objects.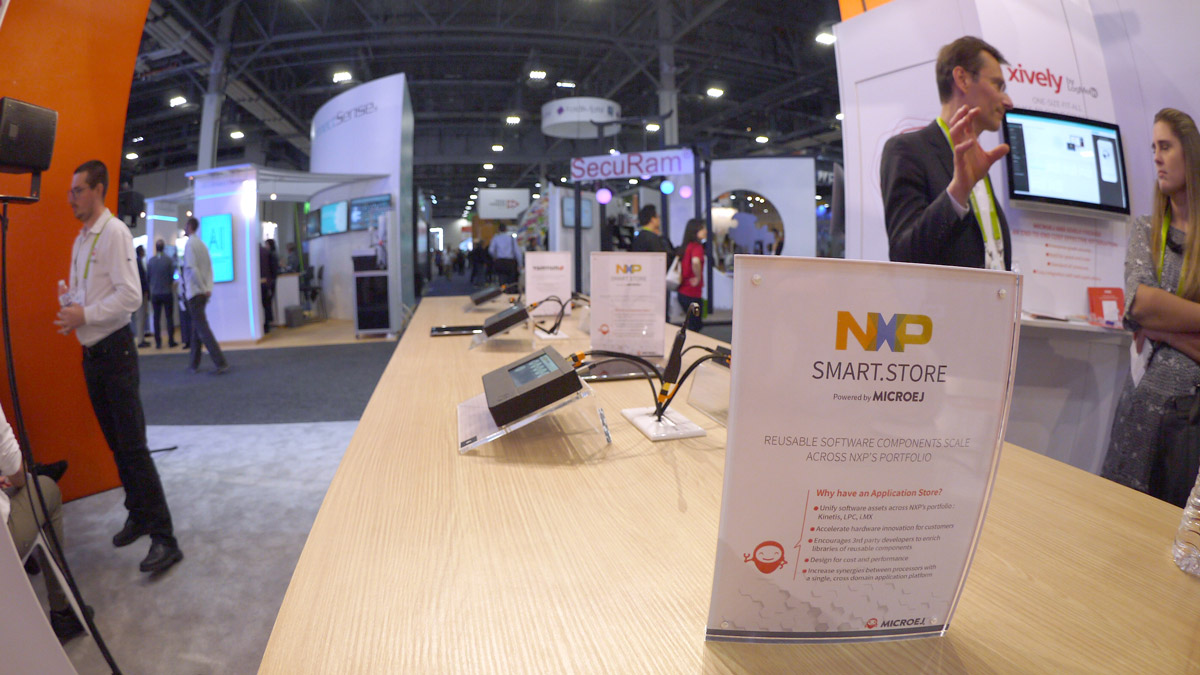 During CES 2018, MicroEJ introduced the different markets in which you can find products powered-by MicroEJ.
Several delegations also came to meet the MicroEJ team to benefit from personalized explanations on our IoT and embedded software. 
If CES is helping to change the world MicroEJ intends to continue being a leader in the world of smart devices and embedded!
See you next year in Vegas!