CES 2019
CES is the world's gathering place for all those who thrive on the business of innovation and disruptive technologies. It has served as the proving ground for innovators and breakthrough technologies for 50 years — the global stage where next-generation innovations are introduced to the marketplace.
This exhibition, which brings together thousands of international companies and investors, is a place for industry and consumer announcements, previews of new hardware and software products and demonstrations of technological innovations.
MicroEJ, back to CES!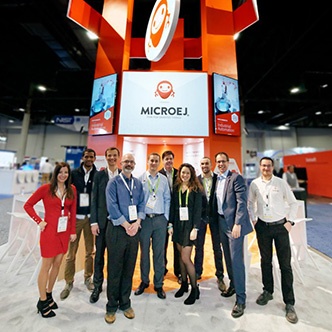 For the 4th consecutive year, we participated in CES alongside of other start-ups and established companies. All of them came to present products and prototypes that appeared   more surprising than each other.
 Consumer Electronics Show is now a misnomer. It is more THE technology show of the year.
MicroEJ comes back each year because it is the ideal place to share experiences and meet CxO levels of large companies developing IoT or other electronic products. This is the   only show in the world where you can have a coffee in the morning with Jabil executives, lunch with a Google VP Sales, after-work chat with Amazon and even more, have dinner   with a journalist from the Echos. What more could you ask for?
For MicroEJ, it the ideal place to reveal to the world, key milestones combined with hard work that took place since the last CES.