MicroEJ unveiled major news in the fields of wearable design, energy management, Edge AI, and embedded security at CES 2023. Learn about its latest announcements for a software-defined world.
The first week of January means it's time for the buzzing Consumer Electronics Show. The annual four-day tech show in Las Vegas showcases companies and developers at the forefront of technology and serves as a proving ground for breakthrough global innovations.
During the event, MicroEJ announced ground-breaking advancements in software-defined everything, turning fixed-function IoT products into a network of programmable devices with upgradable features and distributed intelligence.
After conquering the automobile, network, and radio industries, the Software-Defined revolution is now taking over the IoT world. Small embedded software container like the MicroEJ VEE make it possible to start with software first, decoupling hardware and software innovations. Manufacturers who embrace this new paradigm benefit from significant advantages to grow their business and gain significant competitive advantages:
Increased innovation pace: manufacturers routinely launch products twice faster by leveraging new team topologies, agile methodology and continuous integration.
Sustainable designs: a software-first approach enables carbon reduction from the early stages of the design process by allowing the use of lower-power and lower-cost hardware and reducing the development effort.
New business models through servitization: software enables the constant upgrade of electronic products, allowing the addition of new features and software-based services that can be monetized.
Supply chain resilience: by adding agility and flexibility to product design, manufacturers maintain their market presence by diversifying their electronic component suppliers.
Here are some of MicroEJ's biggest announcements addressing the software-defined trend, from exciting demos to new customer products launches:
1 • Polar Electro Entrusts MicroEJ to Accelerate Innovation in Personal Guidance & Wearable Tech
During CES 2023, Polar Electro announced its choice of MicroEJ to power several top-selling smartwatches, including Polar Pacer Pro, Grit X Pro, and the newly released Polar Ignite 3. With this collaboration, Polar helps expedite the pace of innovation in digital health and wearables, and unlocks industry-first innovations such as vector graphics, best-in-class heart rate measurement and power efficiency.
▷ Read Press Release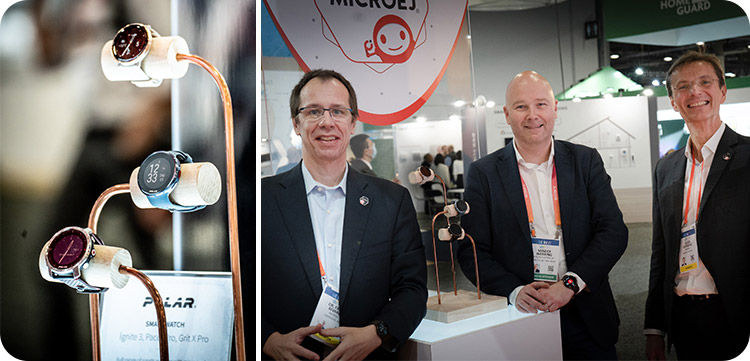 2 • Landis+Gyr & MicroEJ Collaborate on App OS Platform for Next Gen Smart Meters
Landis+Gyr relies on MicroEJ to expand the app development environment for their next generation of Revelo smart meters, establishing the digital foundation for more efficient and sustainable energy management. Revelo and its related future-ready utility IoT platform powered-by MicroEJ provide the edge intelligence and sensing function to provide utilities and consumers with the capabilities to reach their goals.
▷ Read Press Release
Watch live demo of Revelo smart meter by Robert Diloreto, VP sales AMERICAS at MicroEJ:
3 • MicroEJ and Au-Zone Bring AI Closer to Home with Containerization at the Edge
Au-Zone Technologies Inc, a leader in edge AI, chose MicroEJ to ease of integration and deployment of tiny machine learning for intelligence-driven edge devices. The collaboration unlocks the final roadblocks preventing mass adoption of AI for edge applications, such as vision processing, predictive maintenance, and anomaly detection. A Face Detection demo running on the NXP i.MX RT1170 microprocessor was showcased during CES 2023.
▷ Read Press Release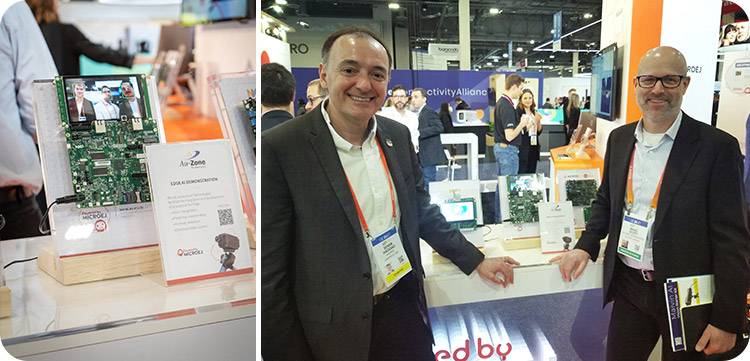 4 • MicroEJ Launches Managed-C Support for Safe and Secure Operation of Today's Connected Systems
Prior to the show, MicroEJ announced the support of the Managed-C programming language to reinforce the security and reliability of connected devices. This industry-first innovation empowers manufacturers to increase the security and reliability of connected systems without burdening developers with added design, coding, and validation effort.
▷ Read Press Release
▷ More info about Managed Code
▷ Check the interview of Fred Rivard, MicroEJ's CEO, by Bill Wong from Electronic Design
5 • Exciting Customer Demos Covering All IoT Verticals
From customer electronics to industrial devices and everything in between, MicroEJ is taking over the IoT world. Over 150 million MICROEJ VEE IP are already sold for industry leaders such as Zebra Technologies, Universal Electronics, Iridium, Schneider Electric, Groupe Seb, Leroy Merlin, Fossil, (etc.), and MicroEJ is aiming one billion units sold in the next three to four years.
6 • An Ever-Increasing Network of Partners
MicroEJ is expanding its collaboration with leading silicon vendors such as NXP semiconductors, Telit, and Thales, magnifying hardware innovations for cutting-edge user interfaces, reliable and secure IoT connectivity, and low-power consumption.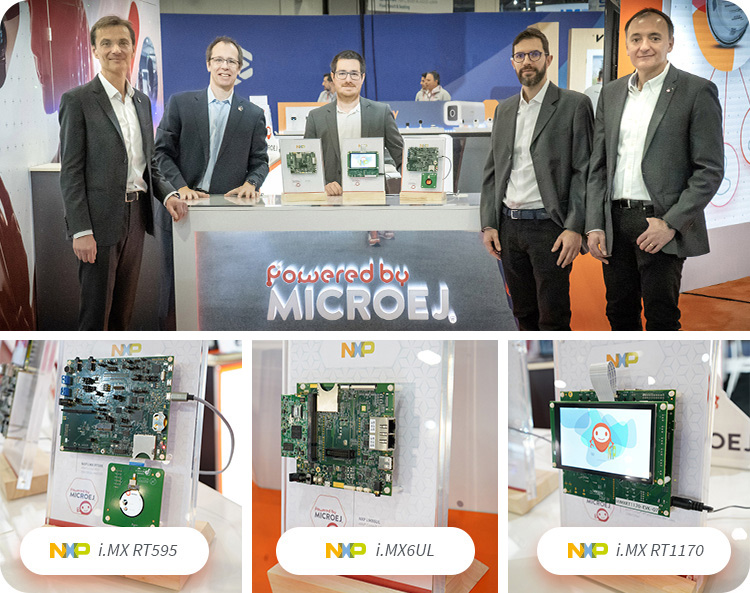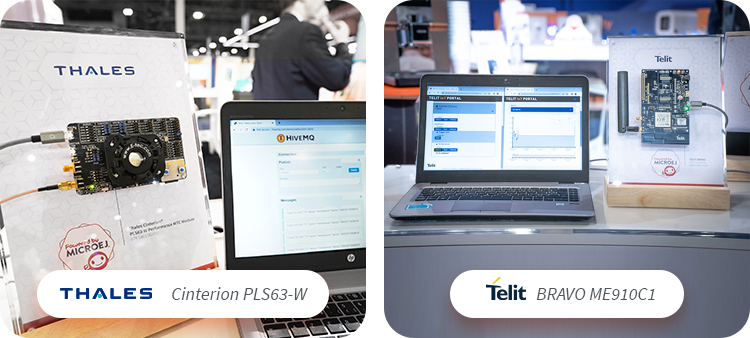 An Ever-Increasing Network of Cordial Friends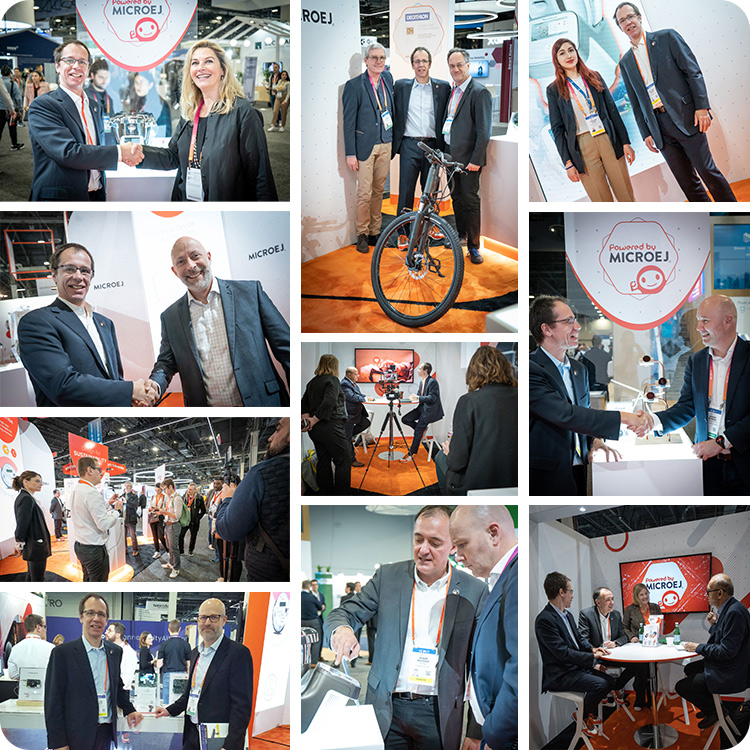 MicroEJ Impressive Press Coverage at CES 2023
MicroEJ was on the radar of numerous influential media at CES 2023 and benefited from positive articles worldwide (Electronic Design, EE Journal, EETimes, EE Journal, Embedded Computing, Security Info Watch, Les Echos, to name a few). Please have a look at our press coverage.

---
Want to know more about how software-defined devices are changing the world? Give us a shout by filling out our contact form.
▷ For more info: Press Kit  –  Press Room – www.microej.com
▷ Follow us on LinkedIn