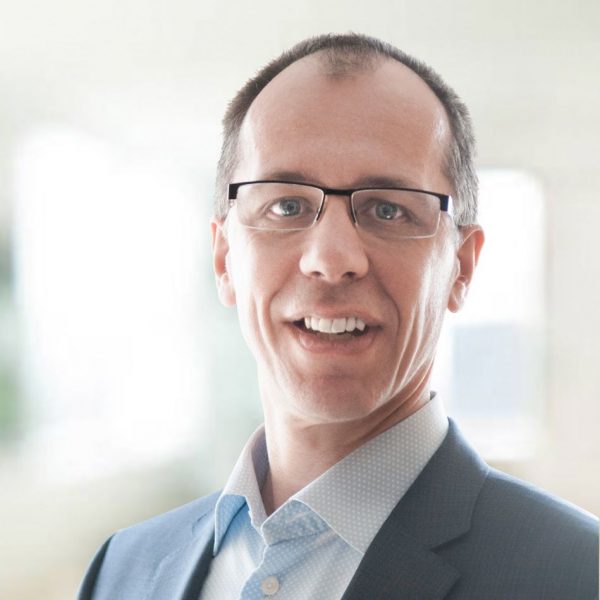 In an exclusive interview with Lembarqué.com, Fred Rivard, the CEO and founder of MicroEJ, explains why the embedded applications environment MICROEJ VEE (Virtual Execution Environment) is now qualified as the "tiny sibling of Android™", a name today duly accepted by the giant Google™ itself. MICROEJ VEE has become recognized as the standard solution for "Things", to make them more intelligent, secure, and especially, low consumption.
At the Google Cloud Next'19 conference held last April, Google and MicroEJ jointly introduced the MicroEJ VEE compact, secure and reliable embedded applications environment as the "tiny sibling" of Android. Can you explain this relationship?
FRED RIVARD MICROEJ VEE shares with Android the same virtualization standard, whose specifications have been in the public domain for over 20 years and are used every day on tens of billions of electronic devices, and not just smartphones. Our difference is in the implementation of this standard. Unlike Android, VEE can run on any type of processors, from the complex SoC (System-on-Chip) to the microcontrollers sold for less than one dollar. Thus, MicroEJ greatly reduces the hardware cost associated with the memory footprint of the standard, since VEE typically requires only 50 KB of memory, whereas more than 50 MB is needed for Android.
We are also very low consumption, since our VEE security container can run on processors clocked at 16 MHz and can be launched in less than 25 ms, where Android needs an energy-intensive processor clocked in the range of gigahertz, with a launch requiring tens of seconds. Finally, VEE runs on all the many embedded RTOS/OS (Real Time Operating System), where Android relies only on Linux. Hence this term "tiny sibling ".
Google and MICROEJ have jointly worked on the similarities and differences of the two implementations of the virtualization standard I mentioned earlier, summarized on our website under https://www.microej.com/product/vee/ . I will also recall that a few years ago, Google launched an Android for connected objects, called Android Things. But it has not kept its promises for the market: too expensive, too heavy and not fast enough. Google has since officially repositioned Android Things on the market vertical of smart speakers and connected screens, positioning MICROEJ VEE as the only standard solution for " Things", to make them more intelligent, secure, and especially low consumption.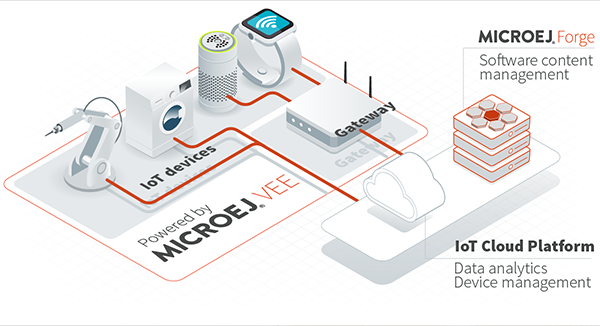 From a more technical point of view, how do you make it easier to connect IoT objects to the Google Cloud IoT platform?
FRED RIVARD As a Google Cloud Partner, we unveiled at Google Cloud Next'19 an App software component in its binary form, named GCP Edge Plug. Its purpose is to greatly simplify the connection of any smart object to the services of Google Cloud IoT Core in a "no-plumbing-code" approach. GCP Edge Plug is fully in line with this vision of "write once, run everywhere" because it is a universal, downloadable agent that runs exactlythe same on any processor, regardless of the underlying operating system.
In addition, this agent runs securely within a VEE trust execution container, a so-called sandbox. MICROEJ VEE containers enable better security management by isolating applications from each other and by managing the use of RAM and the peripheral access rights.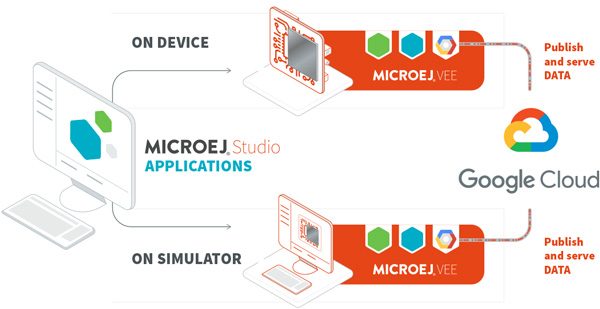 In practice, GCP Edge Plug embeds the MQTT machine-to-machine protocol and makes transparent all the "internal plumbing" between the device and the cloud, especially all the encryption parts and the APIs that can vary. The agent is available on the MicroEJ Application Store, an online store with software components and libraries, all available in open source. In general, users of connected objects based on MICROEJ VEE can simply expand their functionality with new Apps, or even subscribe to new services in the cloud, in the same manner of what exists in the world of smartphones with Google Play Android.
Note that today we are working on version 2 of the MicroEJ Applications Store, called FORGE, as part of a partnership with JFrog that provides professional tools around storing and distributing software components. It should be noted that what we are doing here is a true foundational trend because almost two out of three customers want to use this kind of ecosystem to capitalize their software components across multiple product lines. In the same way that Android has revolutionized the world of smartphones, MicroEJ is disrupting the smart objects market today in areas such as personal electronics, printers, smart meters, medical devices and home automation systems. Our secure container of applications has already been selected by major companies such as Landis+Gyr, Atlantic, EDF, Thales, Hager, Iridium or even the leader Zebra Technologies of professional printers.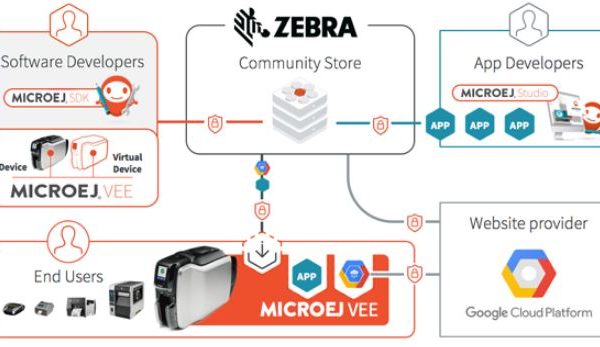 Can you detail the contribution of using MicroEJ technologies for a company like Zebra Technologies?
FRED RIVARD At Google Cloud Next'19, Zebra, Google, and MicroEJ shared a session on how Zebra Technologies, a scanner and printer manufacturer, was able to manage its IoT transformation. Zebra wanted to add value to its devices by opening them to an ecosystem of partners to create third-party applications, while ensuring that these new applications can run across heterogeneous sets of printer families (more than 40 lines of different products) and do not modify or disrupt the real-time operation of the printers.
This is precisely what MICROEJ VEE allows by offering a real Trusted Execution Environment (TEE) and by guaranteeing the respect of real-time constraints. In this context, Zebra provides the GCP Edge Plug application to its ecosystem. Once this app is downloaded, printers benefit from a secure Google cloud connection. It then becomes very easy to download various software agents such as a Twitter agent, a Google Maps agent, or an HTML server, for example.
In Google Cloud Next'19, we were able to demonstrate the ease with which it is possible to print tweets in real time, or print badges with random addresses and an image … And take advantage of Google's analytical tools for example, to perform predictive maintenance from the operations status data captured from the printers. On the security side, all applications run in their own containers. The container controls the execution of the application and, if allowed, communicates with the print activity, all under the supervision of the TEE environment. If the printer allows the printer to connect to the cloud, the app can communicate with Google agents. It will then be possible to print the data transmitted by the application and the activity trace will be kept in the cloud.
In addition, it should be noted that all application development can be done on simulators. MicroEJ actually provides a virtual device on which it is possible, on a workstation, to create and test the application via MicroEJ Studio, our integrated development environment based on Eclipse. This prevented Zebra from performing physical tests on more than 40 different printer models!
More globally, how many companies are working today with MicroEJ?
FRED RIVARD Today we have more than 120 customers and have already sold more than 30 million MICROEJ VEE. Our growth has been exponential for two years in a row, which needed the company to restructure itself, doubling the size of our locations to accommodate new employees to meet the demand. Our short-term ambition is to consolidate our status as a privileged partner of the largest equipment manufacturers in each of the vertical sectors we are positioning for, such as connected home, appliance, energy, health, industry 4.0 or wearables.
---
Interviewed by Pierrick Arlot
---
The English version of the article is a translation of the original article, published in French, on the website of L'Embarqué on July 15, 2019 (www.lembarque.com)
Android and Google Play are trademarks of Google LLC. The Android robot is reproduced or modified from work created and shared by Google and used according to terms described in the Creative Commons 3.0 Attribution License.