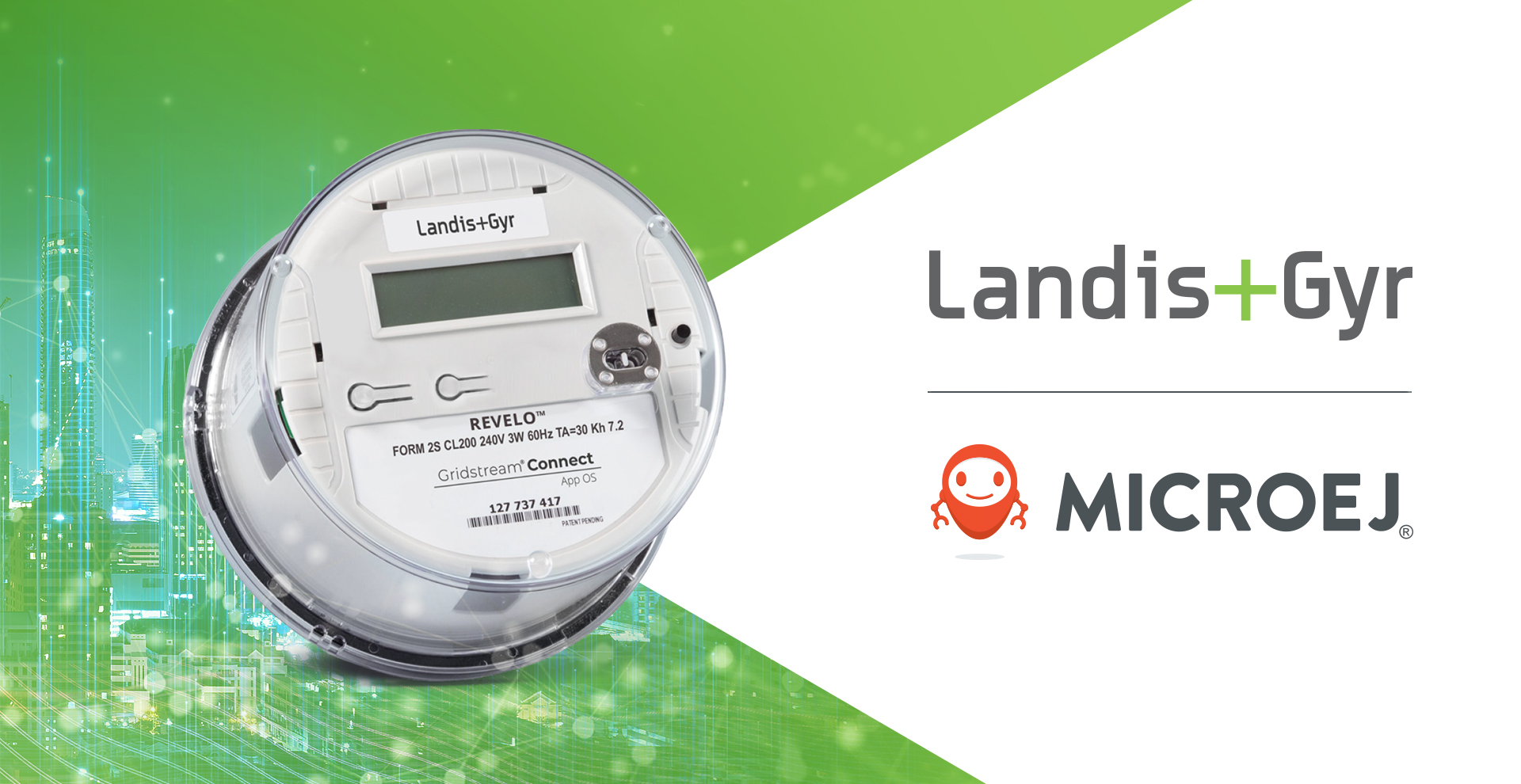 MicroEJ to showcase customizable, extensible smart meters that drive new business opportunities and better energy management at CES 2023
BOSTON, Massachusetts – January 3rd, 2022
MicroEJ, the leading provider of software containers for IoT and embedded devices, and Landis+Gyr, a global leader in energy management technologies, announced their collaboration to expand the app development environment for the next generation of smart meters. This collaboration establishes the digital foundation for more efficient and sustainable energy management.
Through innovative software containerization, MicroEJ Virtual Execution Environment provides an app operating system for Landis+Gyr's Revelo® meter. Revelo's unique waveform sampling makes it a highly accurate sensor and supports software applications for decision making at the grid edge.
Recognizing this impact, Frost & Sullivan awarded Landis+Gyr the 2022 Global AMI Company of the Year Award, an acknowledgement that highlights the potential of this platform to radically transforming how utilities operate.
Partnership provides better energy management
With rising consumer expectations for fast, personalized, and secure energy management, utility providers must maximize customer service capabilities at the grid edge. Revelo supports grid and consumer applications running on the MicroEJ platform that both optimize management of the grid and improve consumer engagement through:
Enhanced grid resiliency and reliability through grid-facing applications
Enhanced consumer experience with end-user usage monitoring with appliance-level granularity
Support for integration and monitoring of distributed energy resources
As Todd Bushey, Vice President, Technologies at Landis+Gyr observes:
"The next generation of meter technologies are a critical next step for energy management. Revelo and its related future-ready utility IoT platform provide the edge intelligence and sensing function to provide utilities and consumers with the capabilities to reach their goals. The flexibility of the MicroEJ environment enables us to provide an effective platform for app enablement and expansion in the future."
Fred Rivard, CEO of MicroEJ, confirms:
"MICROEJ VEE flagship software containers power the digital transformation of future-proof energy meters to an unprecedented level, enhancing services and energy management over the life of a smart meter. This turnkey solution supports the customization and personalization of smart meter applications to address new consumer needs, thereby achieving a sustainable and cost-effective platform for future development."
MicroEJ will showcase theRevelo product platform at 2023 CES Unveiled on Tuesday, January 3, and at the MicroEJ CES Booth #52339 in the Venetian Expo from January 5-8. Contact us for a preview or to learn more about MicroEJ and Landis+Gyr partnership.
---
About MicroEJ
MicroEJ is a software vendor of cost-driven solutions for embedded and IoT devices. We focus on providing device manufacturers with secure products in markets where software applications require high performance, compact size, energy efficiency, and cost-effective development.
Today more than 120+ companies in the world with currently over 100 million products sold, have already chosen MicroEJ to design electronic product applications in a large variety of industries, including smart home, wearables, healthcare, industrial automation, retail, telecommunications, smart city, building automation, transportation, etc.
▷ For more info: Press Kit  –  Press Room – www.microej.com  – LinkedIn
▷ Contact: press@microej.com
---
Landis+Gyr
Landis+Gyr is a leading global provider of integrated energy management solutions. We measure and analyze energy utilization to generate empowering analytics for smart grid and infrastructure management, enabling utilities and consumers to reduce energy consumption. Our innovative and proven portfolio of software, services and intelligent sensor technology is a key driver to decarbonize the grid. Having avoided more than 9 million tons of CO2 in FY 2021 and committed to achieve carbon neutrality by 2030, Landis+Gyr manages energy better – since 1896. With sales of USD 1.5 billion in FY 2021, Landis+Gyr employs around 6,500 talented people across five continents.
▷ For more info: www.landisgyr.com