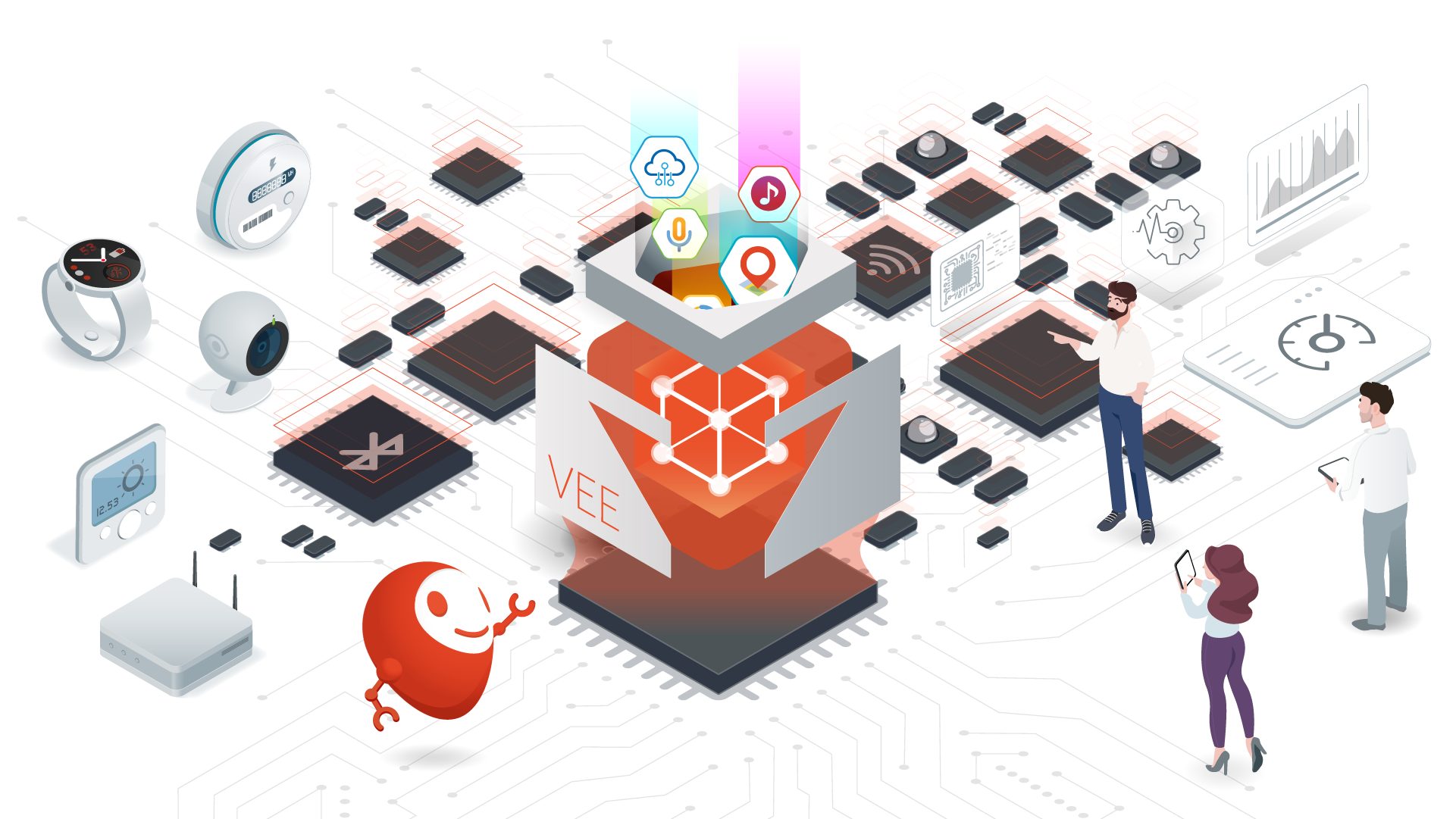 The war in Ukraine is intensifying the shortage of neon gas, a critical raw material for semiconductor production as it is used to power the lasers that etch the delicate integrated circuits in electronic chips.
MicroEJ's virtualization technology allows manufacturers to source from different semiconductor suppliers to facilitate the design of electronic products.
This multi-sourcing strategy significantly reduces potential risks to supply capabilities and thus builds a resilient supply chain.
Boston, April 26th, 2022,
MicroEJ, the company that brings the "smart" into smart things, is designed for low-cost and low-power chips used in IoT edge devices from small Cloud-connected sensors to smartwatches to smart appliances. MicroEJ supports all the major chip providers, including STMicroelectronics, Renesas, NXP, Qualcomm, Sony, MediaTek,  Sequans, Thales, and many more!
"There are now more than 100 billion electronic objects produced per year worldwide, or nearly ten devices per person and per year. To help with this IoT velocity, the big names in electronics manufacturers have chosen MicroEJ's virtual technology for their everyday electronic objects, whether connected or not."

Says Fred Rivard, the CEO of MicroEJ.
Two years after the start of the pandemic, manufacturers are still impacted by the chip shortage. The latest news from Ukraine does not improve this situation as the country is known to supply more than half of the world's neon gas, vital for semiconductor production.
To enable global electronics manufacturers to mitigate the predicted worsening of this shortage, MICROEJ VEE's virtual software containers allow them to use different processor models for the same product and thus spread their supply sources across different suppliers.
"As far as I'm concerned, the bottom line is that, just like Android disrupted the smartphone and tablet industries, MicroEJ is in the process of disrupting the embedded/IoT industries," Writes the Electronic Engineering Journal.
MICROEJ IN-A-NUTSHELL
MicroEJ is recognized by global electronics manufacturers for its solution that reduces the increasing complexity of software embedded in electronic systems. The solution facilitates the design of electronic products and reduces the costs of their development and production, thanks to the reuse of existing software regardless of the chosen processor.
Strengthen the processor supply chain: MICROEJ VEE enables manufacturers to maintain their market presence by diversifying their electronic component suppliers. The additional costs associated with managing multiple suppliers are more than offset by reduced risk exposure, predictable revenue streams, and productivity gains.
▷ For more information, check our white paper "Chip Shortage Mitigation".
Implementing eco-design: Energy consumption is at the heart of MicroEJ's technological innovation and enables manufacturers to change their way of thinking about the design of electronic products. MicroEJ contributes to this effort by enabling products to use less expensive electronics with lower power consumption. For example, it is possible to gain up to several weeks of additional battery life on a connected watch
▷ For more information, watch our webinar with our partner NXP.
React to changing trends: In the consumer electronics market, for example, the MICROEJ VEE application container enables products to be designed up to 3 times faster, accelerating the time-to-market significantly. MICROEJ VEE also simplifies dynamic upgrades of new features on products already deployed to meet new user needs.
Bringing together a large community of developers: MicroEJ supports several programming languages such as C, Java language, JavaScript, and soon Kotlin. This helps stimulate the contribution of more than 35 million computer scientists around the world with the most open and standard development environments on the market.
▷ For more information, see our press release.
"MicroEJ's virtualization technology is a game-changer for the semiconductor industry as it totally abstracts the underlying hardware (processors, micro-controllers, memory, etc…) from the application layer. This decoupling of the hardware from the software significantly accelerates product development, which can now be done in parallel and almost entirely using a software simulator but also mitigate the impact of chip shortages by swapping chips that are out-of-stock with other ones from a different vendor."

Explains Jeb Su, Principal Analyst at Atherton Research.
---
About MicroEJ:

MicroEJ is bringing container virtualization to IoT and embedded devices. We are focused on providing device manufacturers with secure application containers in markets where software applications require high performance, compact size, energy efficiency, and cost-effective development.
With over 100 million products sold, all the leading global manufacturers have chosen MicroEJ to design their electronic devices for a large variety of industries, including smart home, wearables, healthcare, industrial automation, retail, telecommunications, smart city, building automation, transportation, etc.
▷ For more info: Press Kit  –  Press Room – www.microej.com  – 
▷ Contact: press@microej.com
---
Java™ is Sun Microsystems' trademark for a technology for developing application software and deploying it in cross-platform, networked environments. When it is used in this site without adding the "™" symbol, it includes implementations of the technology by companies other than Sun. Java™, all Java-based marks and all related logos are trademarks or registered trademarks of Sun Microsystems Inc, in the United States and other Countries.