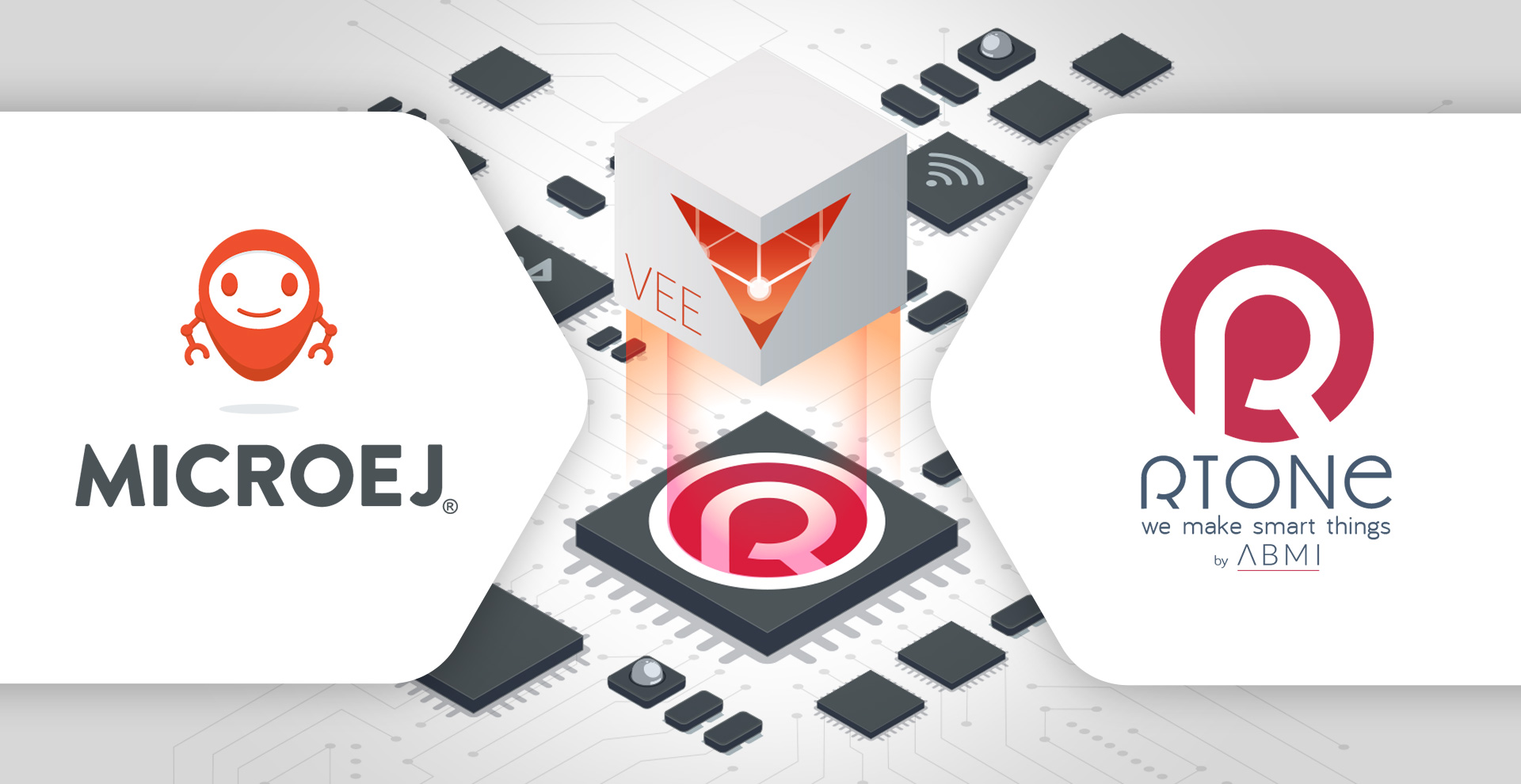 MicroEJ and Rtone jointly offer a wide range of technologies and skills for IoT device manufacturers, looking for a cost-effective and secure solution for the design of their products.
The synergy between the two companies accelerates the development of IoT products (by up to three times faster). They offer a more optimized and simplified platforming of software functions to a new hardware or processor architecture (dual sourcing policy).
Rtone officially becomes MicroEJ's first French « Certified Partner » in the Design Services category.
MicroEJ and Rtone experts will present their latest solutions on Rtone's booth E-225 at SIDO in Lyon on 14-15 September 2022.
Boston, September 12th, 2022
MicroEJ, the leading provider of standard software containers for embedded and IoT devices, today announces the integration of its standard Virtual Execution Environment, MICROEJ VEE, into the Rtone technology portfolio.
Rtone, Business Unit of the international ABMI group, has been recognized since 2007 for its expertise in product design and development. With a team of 80 engineers, Rtone carries out all the design, electronics, radio, mechanics, the development of all embedded, mobile and cloud software, as well as maintenance.
This partnership aims to unite MicroEJ's technology and its optimized software container with Rtone's skills in electronics, mechatronics, design and software. This synergy generates better solutions to crucial industry challenges such as a simplified and accelerated development process, optimized costs, and faster time-to-market.
This collaboration provides an unprecedented solution to strengthen the resilience of the electronics supply chain. It facilitates the implementation of multi-sourcing strategies that considerably reduces the risk of supply chain disruptions. Swapping out a processor is limited to adapting the PCB board as most software functions will operate identically on the new hardware without any modification. The solution thus saves several months of development compared to the technologies without software containers that are traditionally used.
With over 100 Million devices Powered-by MicroEJ sold, MICROEJ VEE designed for low-cost and low-power processors. The solution allows to :
Accelerate Development using Virtual Devices:
MicroEJ radically simplifies the design of new products by integrating simulation for prototyping, development, and testing on virtual devices. Simulation allows for faster product specifications, without having to wait for the first electronic prototypes.
Improve Supply Chain Resilience:
MICROEJ VEE software containers separate the software and hardware layers, which makes it possible to quickly swap out processors without modifying the product software functions. Manufacturers can thus quickly react to hardware shortages or electronic component obsolescence to ensure business continuity in the face of uncertainty due to widespread supply issues.
Capitalize on Software Assets:
MICROEJ VEE promotes software assets reuse through modular programming, which supports incremental innovation in the design of new products.
« MicroEJ's goal is to integrate the industrial value chain by democratizing software container technology – already widely used in the industries of computing and smartphones – to the embedded world ». Said Fred Rivard, MicroEJ's CEO. « This achievement is further strengthened through solid partnerships with significant players such as Rtone, who shares the same objective, i.e. the optimization of our customers' costs and budgets, while guaranteeing the design of robust, profitable, and low power IoT devices .»
« Our collaboration with MicroEJ allows us to increase our ability to meet our customers needs by offering a turnkey solution for the design and software development of their product.» Said Adrien Desportes, Rtone's General Manager. « Thanks to MICROEJ VEE, we are greatly accelerating the design of new, feature-rich, and scalable IoT products .»
After the launch of several joint projects in the home automation and industrial automation markets, Rtone's joins MicroEJ's « Certified Partner » program. This program is intended to increase sales forces tenfold to provide manufacturers access to experts with extensive knowledge in MicroEJ's technology.
Visit Rtone's booth #E-225 at SIDO, which is taking place on September 14-15th at the Cite Internationale in Lyon. It is a unique opportunity to meet with MicroEJ and Rtone experts to discuss your future projects and challenges. 
---
About MicroEJ
MicroEJ is bringing container virtualization to IoT and embedded devices. We are focused on providing device manufacturers with secure application containers in markets where software applications require high performance, compact size, energy efficiency, and cost-effective development.
With over 100 million products sold, all the leading global manufacturers have chosen MicroEJ to design their electronic devices for a large variety of industries, including smart home, wearables, healthcare, industrial automation, retail, telecommunications, smart city, building automation, transportation, etc.
▷ For more info: Press Kit  –  Press Room – www.microej.com  – LinkedIn
▷ Contact: press@microej.com
---
About Rtone
Founded in 2007, Rtone is a Lyon-based company specializing in the design of IoT devices. Rtone supports its customers into each stage of product development, from designing ideas to products lifecycle, covering industrialization, hardware, software and mechanical design, R&D stages and cybersecurity issues.
▷ For more info: https://rtone.fr/
▷ Contact: Jessica Richard – jessica.richard@rtone.fr
---
Google™ and Android™, are trademarks of Google LLC.
Java™ is Sun Microsystems' trademark for a technology for developing application software and deploying it in cross-platform, networked environments. When it is used in this site without adding the "™" symbol, it includes implementations of the technology by companies other than Sun. Java™, all Java-based marks and all related logos are trademarks or registered trademarks of Sun Microsystems Inc, in the United States and other Countries.