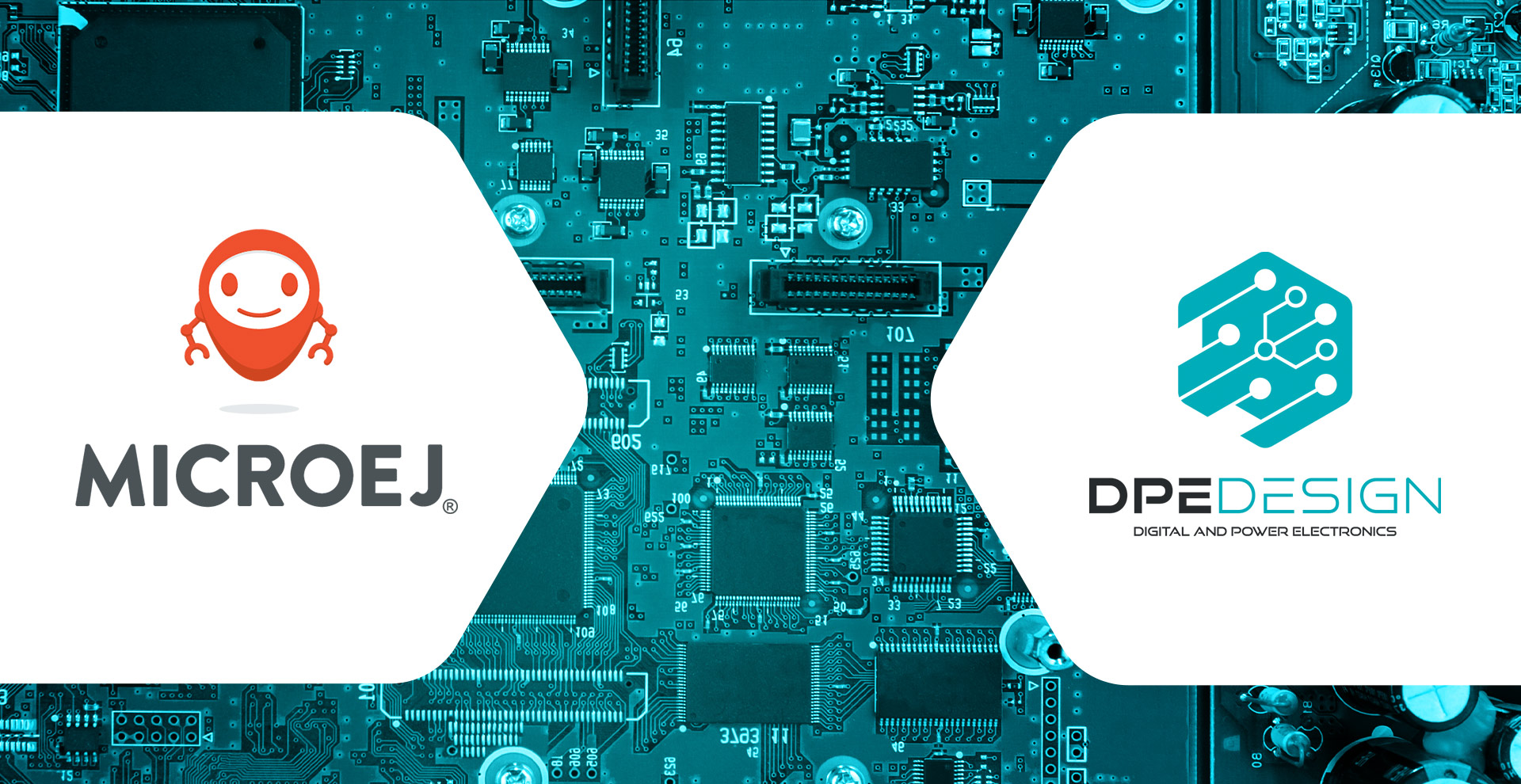 MicroEJ and DPEdesign partnered to offer manufacturers greatly reduced design cycles, shorter time- to-market while reducing the cost of embedded software.
Boston, October 11th 2021
MicroEJ, a leader in software enablement solutions for IoT and embedded devices today announced its collaboration with DPEdesign to integrate MICROEJ VEE into electronic products.
DPEdesign, an electronic design house known for their skills in electronics and software, assists their customers in designing innovative products.  This expertise includes the design of attractive graphical user interfaces and the production of value-added services using device connectivity to the Cloud.
In competitive environments such as consumer markets, the control of engineering schedules and production costs are two essential areas in which DPEdesign excels. As experts, DPEdesign made the decision to add MICROEJ VEE to their technology in order to parallelize software and hardware development phases through the use of virtual devices, that drastically simplifies and accelerates software development  to enable product launches up to three times faster.
"This collaboration with MicroEJ allows us to address the major needs of our customers regarding the development time of embedded software. Through the use of simulation and the rich software library available, we can create complex graphical user interfaces with memory and processing constrained electronics. The MICROEJ VEE application container is a must-have solution for connected devices with the advantage of being integrated to any hardware. It combines simplicity and reliability for devices".

says Benjamin Edme, CEO of DPEdesign
MICROEJ VEE (Virtual Execution Environment) is a standard, safe and secure solution that allows for:
Reduced embedded software complexity: MICROEJ VEE radically simplifies software development by reducing complexity and parallelizing the different device design activities through simulation and virtual devices.
Reduce risks: Device simulation is an ideal means for rapid prototyping. Early, upfront identification of project risks, such as the sizing of the required electronic capabilities, allows for optimized solutions to be chosen, thus providing significant gains on unit production costs.
Democratize embedded software: MicroEJ supports several programming languages such as C, Java, JavaScript and soon Kotlin in order to leverage more than 35 million developers worldwide through the most opened and standard development environments on the market.
Be in control of product launch plans: In an environment where connected objects are part of our daily life, MICROEJ VEE enables product launch up to three times faster to accelerate time to market, and enable dynamic updates of product functionalities according to new users' needs.
"MicroEJ is proud to be able to meet the expectations of DPEdesign, with whom we share the same ambitions to create attractive connected objects, at the lowest electronic cost, in record time."

says Fred Rivard, CEO of MicroEJ
---
About DPEdesign
DPEdesign is an electronic design office. The project process at DPEdesign consists of writing the specifications, hardware and software project realization, BOM cost control and components supply, prototype, endurance and functional tests, CE certification of the products and realization of the test bench for production at an EMS.
DPEdesign is expert in the following competences:
Power: inverters (AC/DC, DC/DC, DC/AC, motor control, LED driver etc.) from µW to 62kW
Energy management: battery management (Pb, NiMh, Li-ion LiFePo4 etc..) and very low power management
Communications: Wired (Ethernet, Serial Com, CAN, Modbus etc..), Wireless (BL, BLE, WiFi, GSM, GNSS GPS, LTE-M, 4G, SigFox, Lora, Wirepass, NFC/RFID, Proprietary etc..), IoT
Digital: Embedded microcontroller 8 – 32bits, Sensors (accelerometer, gyroscope, altimeter, lighting etc..), display (TFT, LCD, Epaper etc…)
With more than 40 projects per year and 85 customers, DPEdesign produces more than 850 000 boards per year from our designs with controlled and controlled after sales returns (less than 1/1000).
▷ For more information: www.dpedesign.fr
---
About MicroEJ
MicroEJ is a software vendor of cost-driven solutions for embedded and IoT devices. We are focused on providing device manufacturers with secure products in markets where software applications require high performance, compact size, energy efficiency, and cost-effective development.
Today, over 100 million products sold, have already chosen MicroEJ to design electronic product applications in a large variety of industries, including smart home, wearables, healthcare, industrial automation, retail, telecommunications, smart city, building automation, transportation, etc.
▷ For more information : www.microej.com   – 
▷ Contact: press@microej.com