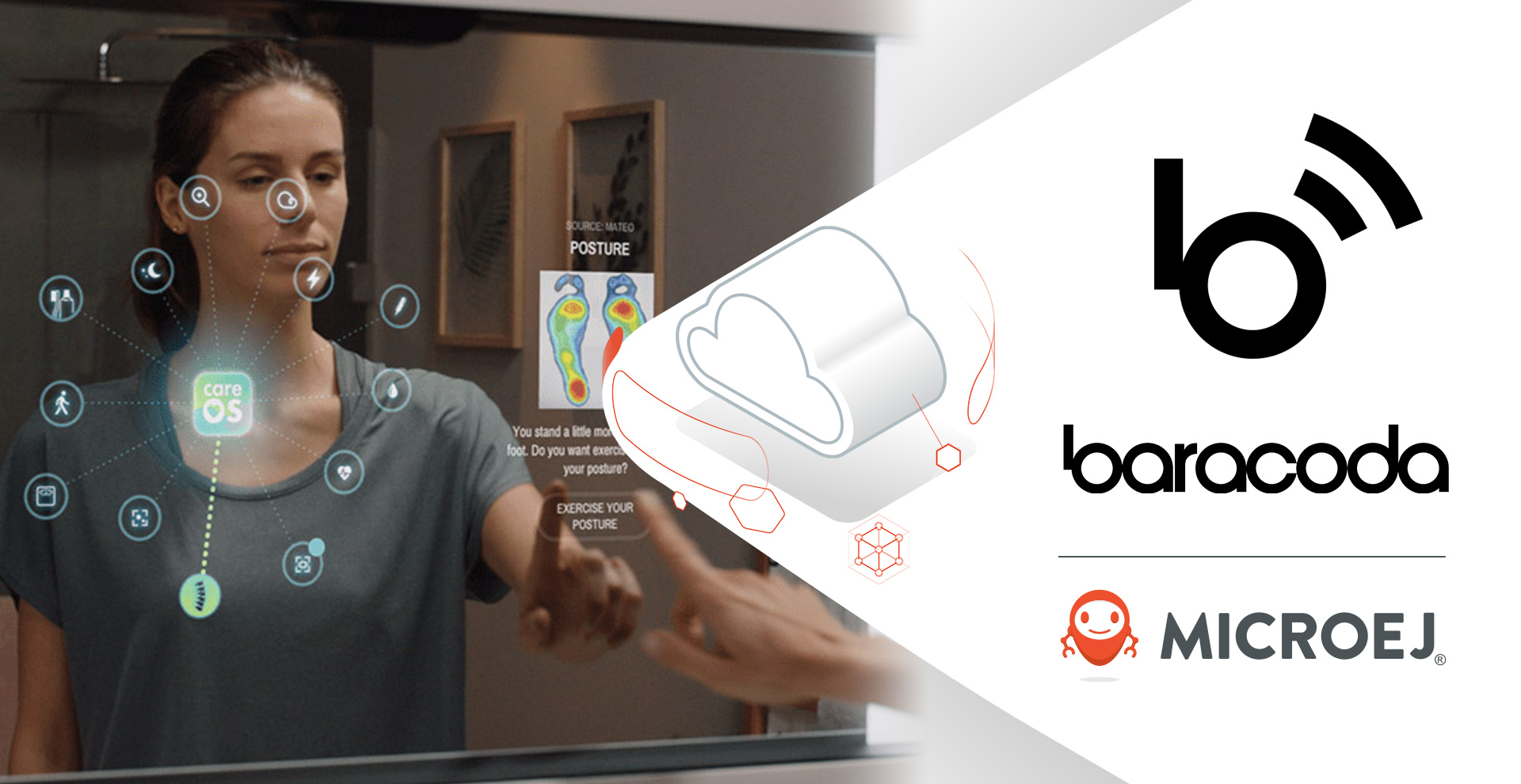 Boston, January 3, 2022
MicroEJ, leader in software enablement solutions for IoT (Internet of Things) and embedded devices, announces its collaboration with Baracoda, to integrate the Bconnect protocol dedicated to communicating objects in the bathroom into the MICROEJ VEE (Virtual Execution Environment and software application containerization), and thus accelerate its adoption by the ecosystem of manufacturers in the "Daily Healthtech" market.
This collaboration meets Baracoda's objectives to:
Impose Bconnect as the standard protocol for the connected bathroom.
Design high value-added connected products integrated with the Cloud.
Baracoda has created an ecosystem of objects for everyday health (brushing teeth, measuring weight, studying body posture and skin condition); with the objective of enhancing user engagement and enjoyment, while ensuring personal data privacy. To extend this ecosystem, Baracoda has created the Bconnect protocol that allows different electronic devices to communicate with each other and with Baracoda's Cloud service. This strategy allows all manufacturers of "Daily Healthtech" objects to benefit from its technology.
As part of the Bconnect deployment, Baracoda has chosen the MICROEJ VEE applications container to globally distribute a set of proprietary and ready-to-use software bricks on a large number of electronic systems commonly used for the design of electronic products.
"This collaboration with our partner MicroEJ, a specialist in embedded technologies in IoT products, will accelerate the adoption of our Bconnect protocol by our partners in the connected bathroom space. They will be able to quickly integrate with our cloud infrastructure and bring new uses to users, while respecting the protection and confidentiality of health data."

Says Thomas SERVAL, CEO of Baracoda.
With more than 100 million application containers already sold "Powered by MicroEJ", MICROEJ VEE solution has become a reference for the development of communicating electronic products. This collaboration allows Baracoda and its partners to benefit from many advantages:
Integrate ready-to-use software bricks into a wide variety of electronic systems: software bricks such as Bconnect are developed only once and can be integrated into very different electronic systems depending on the types of objects designed.
Reinforce product security: containerization of software applications reinforces security to guarantee the confidentiality of user data.
Benefit from a developer ecosystem: with a community of over 35 million developers worldwide, MicroEJ supports several programming languages such as C, Java language, JavaScript, and soon Kotlin used by the Android"™" community.
"MicroEJ is proud to collaborate with Baracoda to offer a model for product design that has already proven itself in the connected home. Our application container makes it effortless to install the Bconnect protocol on any electronic system used by connected objects. The "virtualization" component of our container provides an additional level of security needed in the health and wellness field."

Says Dr.Fred RIVARD, President of MicroEJ.
MicroEJ will be present at CES 2022 (Venetian Expo, Hall A-D, booth 52529) as well as at CES Unveiled in Las Vegas, a unique opportunity to share new IoT (Internet of Things) trends and present MicroEJ's growth and future goals. Baracoda will also be exhibiting in the LVCC area with a showroom dedicated to the bathroom of the future: booth n°8419.

---
About Baracoda
Established on three continents, Baracoda is a leader in daily healthtech. The company infuses connected tech into the everyday routine – leveraging AI, data analysis, machine learning, app development, gamification and more. Baracoda launches products and scales businesses alongside global market leaders, relying on a unique B2B2C business model. Baracoda's CES-awarded innovation model is driven by quantitative indexes, developed in-house to recognize daily habits that improve health and wellness.
▷ Discover more at www.baracoda.com, www.bbalance.io , www.care-os.com
---
About MicroEJ
MicroEJ is a software vendor of cost-driven solutions for embedded and IoT devices. We are focused on providing device manufacturers with secure products in markets where software applications require high performance, compact size, energy efficiency, and cost-effective development.
Today, with over 100 million units sold of its flagship MICROEJ VEE, MicroEJ solution runs electronic products in a large variety of industries, including smart home, wearables, healthcare, industrial automation, retail, telecommunications, smart city, building automation, transportation, etc.
▷ For more info: Press Kit  –  www.microej.com  – 
▷ Contact: press@microej.com
---
Java™ is Sun Microsystems' trademark for a technology for developing application software and deploying it in cross-platform, networked environments. When it is used in this site without adding the "™" symbol, it includes implementations of the technology by companies other than Sun. Java™, all Java-based marks and all related logos are trademarks or registered trademarks of Sun Microsystems Inc, in the United States and other Countries.