The company created by a former IBM scientist sells lightweight operating systems for connected devices. Relatively unknown, MicroEJ has signed numerous contracts with prestigious clients worldwide.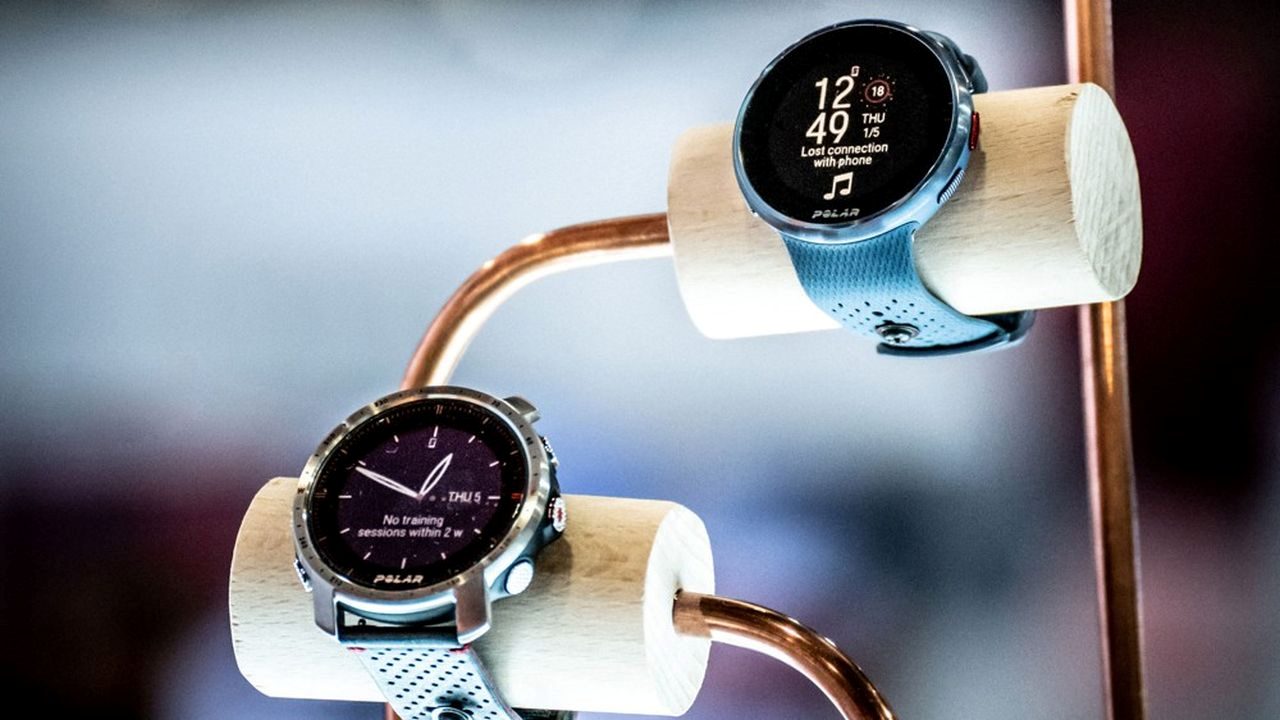 Polar Electro watches integrate MicroEJ VEE software containers in several smartwatches. Photo MicroEJ.
Solveig Godeluck – Les Echos – https://www.lesechos.fr/

January 11th 2023
You probably haven't heard of MicroEJ. That's normal: this small company based in Nantes (France) and Boston (USA), with 70 employees, is not listed on the stock exchange, and only deals with large, industrial customers. It licenses software platforms that run IoT devices' applications. Not very glamorous. Nevertheless, this little underdog had a booth at the Consumer Electronics Show (CES) in Las Vegas last week, for the seventh consecutive year. And it counts among its clients some of the biggest names in the industry.
A Decathlon electric bike, a Landis+Gyr smart meter, a Schneider Electric power meter… Behind each of these deviceS lies a MicroEJ platform. The company, founded in 2004, also supplies household robot specialists SEB, Rowenta, Krups, Moulinex; it has signed with the hardware store Leroy-Merlin, the Internet of Things specialist Telit, Iridium satellites, Polar watches, and Zebra printers.
MicroEJ's application platform is ultralightweight: it only requires a 512 kilobytes microcontroller to run, while Android needs 500 megabytes or even over one gigabyte. The chip, therefore, costs between $1 and $10, compared to $10 to $25 with Google's operating system.
Stronger than Google
"We are succeeding where Android Things threw the towel!" rejoices Fred Rivard, CEO and founder of MicroEJ. In 2016, Google tried to launch a lighter version of its software for smartphones, to position itself in the rapidly growing Internet of Things market. However, the project was buried in "Google tried to start from a single software and make variants out of it, while we immediately built industry-specific verticals," explains the leader. "Today, we are the only low-power and cost-effective application container that can run the same applications as Android," positioning MicroEJ as the "tiny sibling" of Android.
A container may seem like an odd term for someone who solely develops software. It means that the system designed by MicroEJ is not integrated into the hardware: it is portable, it can easily be ported to a watch, a coffee machine, a light switch… It is "virtualized." Having received an IBM scholarship to complete his computer science PhD, Fred Rivard moved to Canada in the late 1990s. He became one of the creators of IBM's virtualization technology, still used by millions of engineers worldwide.
The winner takes all
Virtualization reduces R&D costs – there's no need to reinvent the wheel with each new device. It also leads to designing less complex and thus less fragile systems, and speeds up market introductions. Fred Rivard estimates the low-consumption platform market between 12 and 15 billion units, excluding the automobile market. "We aim for 7 billion units for MicroEJ. It's a market where the winner takes all. We are already well positioned and will  conquer each vertical business one by one, starting with wearables, then meters," he says.
Fred Rivard has no plans to raise funds to finance growth. The last funding round dates back to 2012. Prudent and at the head of a profitable company since 2017, he prefers to grow organically. The company has sold 150 million units of its platform and aims to "hit a billion in three to four years" through long-term contracts. Customers have signed up for 7, 8, or even 10 years. "I know my cash flow for the next three years," says Rivard. And if a real competitor comes to shake things up? "Very few people know how to make virtual processors. No school trains in this profession. And our software factory in Nantes has been operating for five years," assures Fred Rivard, without flinching.