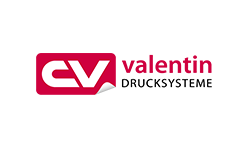 The highest level of expertise in matters relating to printing and labelling systems, involved in practically all industrial sectors – that is Carl Valentin GmbH. What started in 1918 as a label factory has developed into one of the leading producers of labelling systems – with global sales markets.
Carl Valentin develop, produce and sell multifunctional label printing and labelling systems as stand-alone modules, integrated modules, direct prints or special solutions that produce barcode and plain text labels in all conceivable formats in the direct thermal or thermotransfer process – carefully supplemented by convenient label design software and an abundance of convenient accessories.
Carl Valentin GmbH is now managed by Managing Director Erwin Tisler. Fully in keeping with the tradition of the founding Valentin family, he manages the company according to the precise principles with which it has achieved success for almost 100 years: Quality, Tradition, Innovation.