In the burgeoning-yet-nascent market of connected devices, companies face many challenges that slow development and limit profitability. Today, the launch of fully-featured smart station Sowee after just months of development shows that MicroEJ software reduces or eliminates these challenges, letting IoT companies achieve fast time-to-market and create their own profitable business models. MicroEJ and Sowee are both demoing at CES 2017.
LAS VEGAS – January 5, 2017 – Most smart devices take well over a year to develop. A fragmented hardware market and ever-increasing software complexity make design difficult and require that lots of code be rewritten after many iterations. Furthermore, what few solutions exist for these challenges are closed, "locking in" companies to specific platforms and limiting their business models.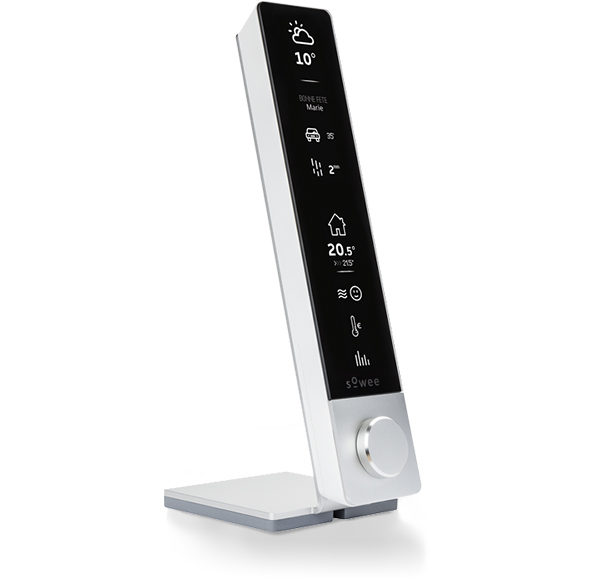 Today, MicroEJ partner company Sowee launched its eponymous smart station for homes, built on MicroEJ's operating system and developer tools, after a development cycle of mere months. With full features like home temperature control and smart device connectivity, the launch proves that MicroEJ's open software platform is a massive step forward for the IoT industry.
For consumers, this means more and better smart devices as more companies can sell them, stay in business, and add new features that would otherwise be too costly.
MicroEJ's operating system, MicroEJ OS, uses virtualization to let the same code run on nearly any 32-bit microprocessor or microcontroller. Not only does this mean developers save time re-writing code when the hardware changes, but it also lets them reuse code in future generations of a given IoT product, which would normally require starting from scratch. And as MicroEJ OS is designed for IoT, it comes pre-loaded with functions for connectivity to open cloud platforms, drastically simplifying the process of adding the features that define a connected device.
"The MicroEJ solution is built into every Sowee connected station. Its ease and speed of implementation made it possible to take on and overcome a technological challenge. With the help and expertise of our partners, we succeeded in developing a robust and modular product that could evolve over time for a user experience that's always getting better."
"This partnership with Sowee, a subsidiary of the EDF group, demonstrates not only our technological aptitude but also our ability to effectively support the digital transformation of companies into a connected world," said Fred Rivard, founder and president of MicroEJ. "Our solutions bring life to an object, and contribute to the development of new business models based on services and data."
The modularity of MicroEJ software also means that devices can easily upgrade their products over time with software updates. If a developer chooses, devices powered by MicroEJ can install and update individual applications without needing a device restart, thanks to MicroEJ's "sandboxing" capabilities that allow different programs to run independently of one another.
Sowee plans to add additional energy savings features as well as services that help users' everyday lives, such as indoor air quality monitoring and weather and traffic reporting. The company will also expand the number of other connected devices that users can control via Sowee.
Sowee is now available in France. MicroEJ's booth at CES is currently demoing Sowee along with eight other devices that use MicroEJ software, including a robot companion, smart watches and an autopilot for boats. MicroEJ's booth is at the Sands, Halls A-D, booth #41166. Interested parties can request interviews at CES via the contact information below.